Books for sale on this site, go to the Order form Section

Books that I have authored ou co-authored or those for which I have assumed the direction of the collective or been part of a collective of less than 10 authors.

The cost is very reasonnable and excludes postage.
Free reading but the reproduction...
All texts* on this Web site, signed by Janick Belleau, are available to Internauts... as long as, in all reproduction, written or verbal, the name of the author and the source are quoted.

* The word "texts" comprises feature articles, reviews, interviews, presentations, poems, prose, etc.

Note written on November 8, 2016 but applicable for all texts.

Bio-bibliography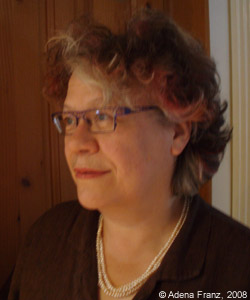 Janick Belleau was born in Montreal. Graduated from the University of Ottawa in French Literature and Social Communications. Lived 7 years in Winnipeg. Back in Montreal since 1987. Published a sociocultural portrait, Le Manitoba des femmes répond – questionnaire Gabrielle-Roy (1985, Winnipeg); a short poems collection, L'en-dehors du désir (1988, Winnipeg),a haiku and tanka collection, Humeur… Sensibility… Alma… (2003, Montreal) the latter, partially in three languages, a tanka collection in both French and English, D'âmes et d'ailes / of souls and wings (2010; winner of the French section Canada-Japan Literary Award 2010). She coauthored with Micheline Beaudry an erotic haiku and senryu anthology containing 182 previously unpublished poems from 77 contemporary poets, L'Erotique poème court / haiku (2006, Brussels). She authored another anthology composed of 86 haiku women and 283 of their previously unpublished poems, Regards de femmes – haikus francophones (2008, Lyon / Montreal). She was one of the co-editors of the Take Five - 2011 Best contemporary tanka, vol. 4 (2012 U.S.). Her poetry (tanka and haiku) appears in literary journals in French and in English. Her feature articles (Québec and Canada) and talks (France, Canada, Japan) concentrate on the writing of women haiku and tanka poets. She is a member of Association francophone de haiku (France), Haiku Canada, Haiku International Association (Japan), and the Haiku Foundation, USA. On the tanka side, she is a member of Tanka Canada - Gusts, Tanka Society of America and the Japan Tanka Poets Society.